Returning Session and/or Idle timeout in a RADIUS Scenario.
Last modified on 21 Jan, 2021. Revision 6

This might be a requirement when setting up EasyAccess. Since we normally deal with users who uses NPS (Microsoft Network Policy Server) as RADIUS Server where Session and Idle timeout values are sent per default in the RADIUS ACCESS-ACCEPT. In EasyAccess these values are not sent per default and you have to manually specify that those should be returned. Here is how you do that.
| | |
| --- | --- |
| Up to date for | EasyAccess 3.2.0 |
| Status | OK |
Configuring EasyAccess
Go t your RADIUS Scenario under Scenario → Radius in the webui. Go to the "Execution flow" tab and add two PropertyAddVavles with the following configuration:
PropertyAddValve
{


        

"name"

:

 

"PropertyAddValve"

,


        

"config"

:

 

{

 
              

"name"

:

"session"

,


              

"value"

:

"30"

,


              

"splitter"

 

:

 

";"


        

}




}



PropertyAddValve
{


        

"name"

:

 

"PropertyAddValve"

,


        

"config"

:

 

{

 
              

"name"

:

"idle"

,


              

"value"

:

"30"

,


              

"splitter"

 

:

 

";"


        

}




}



Next go to the Advanced Tab and add the following under Response Attributes: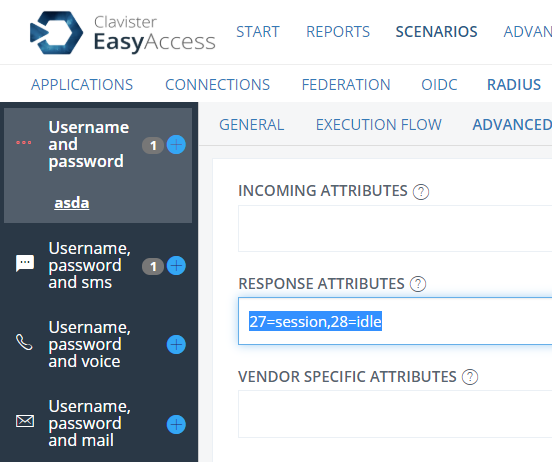 Related articles