OneConnect VPN certificate not trusted
Last modified on 12 Oct, 2021. Revision 9

Helps you troubleshoot certificate issues when using OneConnect v3 and newer
| | |
| --- | --- |
| Up to date for | cOS Core 13.00.09 and up |
| Supported since | cOS Core 13.00.09 |
| Not valid for | cOS Core 13.00.08 and older |
| Status | OK |
| Author | Karsten Knecht |
Description
When trying to initiate a connection with Clavister OneConnect Client you may get the following error.
Windows: Server certificate is not trusted by Windows
iOS: Invalid certificate format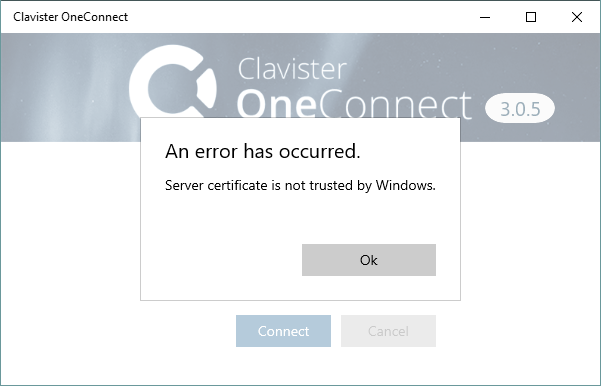 BackgroundCertification validation is done in several steps.
First Client initiates a connection to the configured NetWall (vpnserver.mydomain.com). 
Next, the Netwall presents it's system certificate. The subject field needs to contain the correct DNS name(s) (FQDN), either vpnserver.mydomain.com (or *.mydomain.com when using a wildcard certificate).
If the first two steps are successful the certificate will be checked against the clients system certificate store.
If there is a mismatch (for example you enter the IP address instead of the FQDN, or the certificate is not trusted) you get the described error.
Solution
Make sure that your certificate fits the requirements and has the correct FQDN
Import the certificate incl. private key in your NetWall under /Objects /General /Key Ring. Type must show as Local.
Select the certificate as HTTPS certificate under /System /Device /Device Settings /Remote Management → /Advanced Settings
Be aware that this is also the certificate of your Web-User-Interface!
Import the certificate to your clients system certificate store.

If the certificate is bought from a well-known CA authority you should be able to skip this step, as your computer already trusts the according CA.
If the certificate is self-signed then you need to import it on all clients using OneConnect. Please follow the documentation of your operating system on how to do this.

Note: The private key should not be exported.
Related articles